Long considered the premier tourist destination in South East Asia, Phuket offers you a chance to experience the holiday of a lifetime. Pristine sun-drenched beaches, warm tropical waters, palm trees swaying gently in the breeze; Phuket has all this and more. Served by its own international airport and with regular daily flights to Bangkok, Kuala Lumpur and Singapore, Phuket is easily accessible from all international destinations. With five international standard golf courses, including the Blue Canyon Country Club which was voted the number one Championship golf course in Asia . What do you want to do today? Learn to dive? Spend a day lazing on a yacht? Snorkeling on coral reefs? Or just lazing on the beach swinging in your hammock?, all this can be a part of your holiday. Phuket also has a vibrant nightlife with the world famous Simon Cabaret show and Phuket Fantasea, a Las Vegas-style show with live elephants and tigers, just two of the many things to do after a long hard day in your deck chair.
Phuket is world-renowned for the quality of its seafood and there are many restaurants from 5-star hotels to small bamboo restaurants on the beach serving top quality seafood and Thai food. For the more adventurous amongst you, why not try the food from the street stalls? - long considered some of the best in the world. Two western-style hypermarkets also serve Phuket, so you can buy most familiar brand name foods, as well as fresh Asian products for your own exotic personal dining experience.
Phuket offers a wide variety of accommodation from small mom-and-pop guesthouses to 5-star + resort hotels. Increasingly, privately owned villas and apartments are entering the holiday rental market. These large villas, all with three or four bedrooms, fully furnished with western-style kitchens, TV, video, DVD player and most with their own swimming pool, allow you to structure your holiday the way you want to. Holiday villas give you freedom, privacy, and choices. Want to hang round the pool in the morning sun reading your book and drinking coffee with no disturbances? Then, a holiday villa is for you just what you deserve! With your own kitchen, you decide what you want to eat and when you want to eat it. Apartments are, again, fully furnished to a western standard but the choices range from one to three bedrooms which are generally adjacent to communal swimming pools. All properties are located in small boutique-style residential areas with 24-hour security, tropical gardens and plants; peace, quiet and solitude. Holiday villas and apartments are a lifestyle choice and made for relaxed and informal holiday.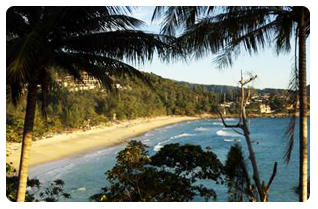 Phuket Island Property Services (PIPS) is a property management company specializing in villa and apartment rentals. With a wide ranging portfolio of properties, PIPS offer you a carefree holiday. PIPS can take care of your every need from airport transfer, car hire to tour booking. - in fact, anything you can think of! We offer a personalized service comparable to any 5-star hotel. Want to hold a dinner party?, we can arrange a chef for you and your guests. Need tickets for a show?, we can arrange it. Want a chauffer driven car to go shopping?, Tour the island? Or just go out for the evening?, we can arrange this too - anything to make your holiday as comfortable and relaxed as possible.
At Baan Chai Nam, a boutique housing development on beautiful Bang Tao Beach, we can offer 3 and 4-bedroom beachfront villas adjacent to a communal swimming pool, and 1, 2 and 3-bedroom apartments with access to the communal pool. Each villa and apartment is fully furnished with a western-style kitchen, TV, video player, stereo and DVD player. Most properties come with a selection of music CDs and DVDs but local rentals are readily available and most first released movies are available from the local markets at a fraction of the cost of home.
Surin Springs Estate, just 5 minutes from beautiful Surin Beach, is an exclusive development of luxurious homes, each with their own swimming pool, and 2 and 3-bedroom apartments, with a communal pool overlooking a spring-fed lake. Again, all properties are fully furnished with western-style kitchens and all the modern conveniences to make your stay as enjoyable and as carefree as possible.
Club Lersuang completed end-November 2005, is a 56-unit apartment / penthouse development in Bang Tao, 200 meters from the seashore. The development consists of 4 blocks of 12 apartments and 2 penthouses each, many of which are for rent on a long-term or holiday rental basis. Club Lersuang is situated in a fast growing area of Surin / Bang Tao within 2 minutes of well-known areas such as The Chedi, Amanpuri, The Rydges hotels and Baan Chai Nam Estate.